eCHEQ™ Process


The banking industry and FED permit companies to receive web-based CHEQ™ payments through the ACH Network as WEB Transactions.
eCHEQ™ Online payments allow your customers and clients to enter their CHEQ™ information via your company's web site to make online eCHEQ™ payments for products, services, and invoice payments.
Online Security
Safeguarding the privacy and confidentiality of your data is of the utmost importance whether you interact with us over the Internet, through an electronic terminal, or by telephone.
eCHEQ™ Solution
Add eCHEQ™ capabilities to your website to accept online invoice payments and product payments, eliminating the need to accept expensive payments via the US mail.

It also allows for an alternative payment method for goods and services from your website at a much reduced cost as compared to credit and debit card transactions.
Web Hosting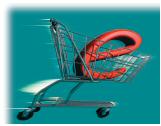 By utilizing eCHEQ™ , online CHEQ™ hosting, you can provide a safe, secure way for your clients to make online payments while providing your own unique branding. provides the ability for you to have your web payment page hosted on our secure servers. eCHEQ™ can even provide the ability to setup recurring payments acceptance online as well.